Valletta: European Capital of Culture 2018!

We all know what's starting this weekend: V18. Valletta has been designated as this year's European Capital of Culture (ECOC). The concept involves a capital city in Europe, taking the notorious cultural role for the period of a calendar year, in the course of which a programme of cultural events is organised in the elected city.
The city is chosen by the European Council and the programme is managed by the European Commission each. Valletta will become the European capital of culture for this year, together with Leeuwarden in the Netherlands. This aim of this international collaboration is to promote both these European cities and invite visitors to visit the respective countries.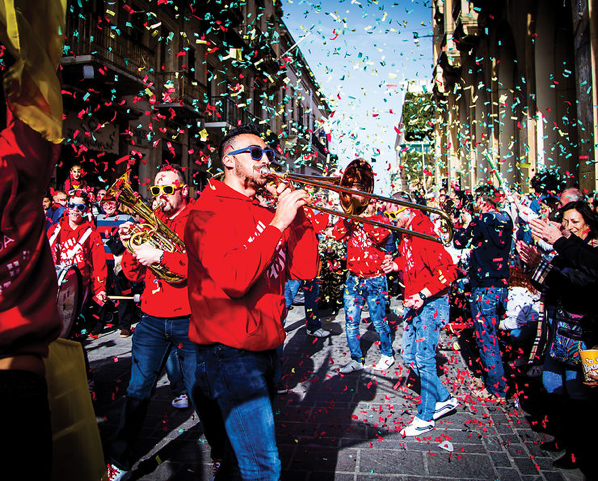 source: Valletta18.org
The fortified city of Valetta, built by the Grand Masters of the Knights of St John in 1566, under Jean Parisot de la Valette's tenure. The city contains lots of buildings of this time: we list 320 monuments on a 55-hectare surface, an exceptional concentration. The city is registered on the list of the world heritage of the humanity (list of UNESCO) since 1980.
The Valletta 18 foundation has created a cultural programme based on four themes: generations, routes, cities and islands. Every theme is chosen according to the Maltese culture and fits within a European dimension.
Indeed, the concept emphasises on sharing values and invites people to discover the Maltese European culture heritage. Moreover, this is a chance for the general public to have an artistic experience.
And so, it begins! This week we're officially kicking off things, as Malta launches its ECOC's opening ceremony tomorrow (20th January). Watch out for The Società Filarmonica Nazionale La Valette, which will animate the beautiful streets of our capital city, with brass band concerts, in-house exhibitions and a lively atmosphere during all the opening week.
This will set the ball rolling as more than 400 events will take place during the year in Malta and Gozo, together with 140 projects around the islands. These include art exhibitions, artist performances, concerts and popular demonstrations.
Many events will take place within Valletta, and especially in notable streets (such as Strait Street) but also in museums (such as the Musa or the new National Museum of fine arts) or cultural places. You can find out all the information from here: http://valletta2018.org/events/
Here are some notable events happening throughout the year:
-13th January to 27th January: The Valetta Internationale Baroque Festival 2018.
-9th February to 13th February 2018: Carnival.
-19 January to 30th August 2018: Inspired in China – Fine Art Exhibition by Maltese Artists.
-21th January to 31th December 2018: Art Exhibition by Raymond Darmanin.
Whether you're a local, a resident or a visitor, we hope that you enjoy your stay in Malta – but especially the activities complementing our calendar this year. You MUST visit Valletta and, if you can, try to get lost in its narrow streets!