New Quicklets and Zanzi Homes office open in Birkirkara

It's the team that builds the dream
New offices require a new team, and careful consideration has been given to those who will be taking the reins on Quicklets 36th branch on the islands of Malta and Gozo. Roberta Garzia, Chris Pullincino and Flavio Gerardi have been named as the 'agents of awesome' that will manage and guide the rest of the office as the franchise looks to step up their offering to the market in a new location.
With a constantly expanding client base and an excellent reputation, Quicklets and Zanzi Homes were an obvious choice when it came to Garzia and Chris migrating to the real estate sector. Seeking a challenge for their business growth, Garzia reinforced this by saying, "We immediately inclined our prospects targeting the property market as the sector gained a massive and rapid spur globally in the last decade."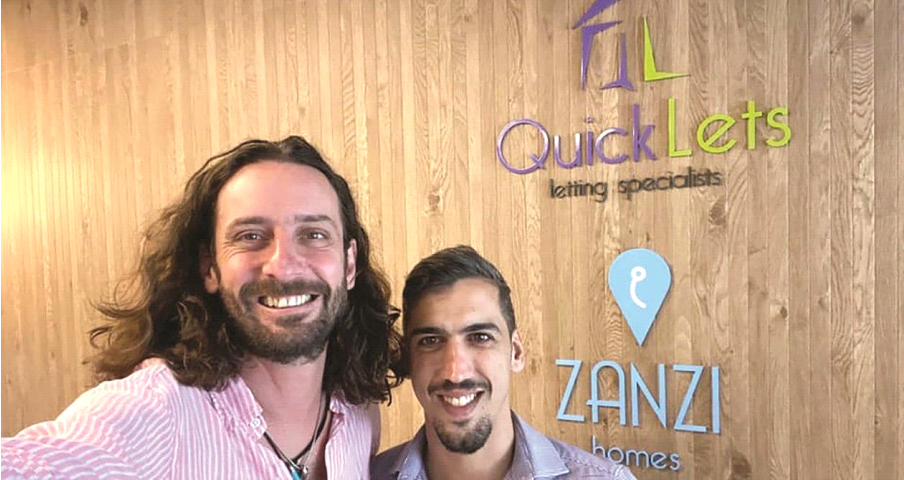 A common ground
As if to further drive this home and confirm why the move to Quicklets and Zanzi Homes seemed like a natural progression, Garzia noted that at their core, the franchise network maintained a vision and mission within their operations that echoed those identified as critical to business success. That being the valuing of the team itself, and the professional manner in which they approach things. She states that, "By developing talented individuals and making them feel part of a family rather than labelling them with just a job description is what made us stand ahead among the rest. Therefore, it felt so natural seeking franchise opportunities with Quicklets and Zanzi Homes as their essential ideals on business strategies were quite similar to ours, especially when it comes to investing in developing a dynamic team."
Complementing this dynamic duo is the incredibly experienced Flavio Gerardi. Moving into the sales arena after finishing at university, Gerardi saw a field that he had a natural talent in, leading him into telecoms where he sought to challenge himself and those around him for a large part of his career. A deeper sense of worth and what he could offer, saw him turning to the world of real estate where he set his sights on expanding his knowledge.
He mentions, "I decided to make the switch to real estate as I felt I needed to step out of my comfort zone and move into something more challenging and rewarding. Quicklets and Zanzi Homes felt like the natural choice, as I feel it is not only the best real estate firm on the island, but the company's beliefs and philosophies are very close to mine," which are a well placed nod in acknowledgment of the work done by the business associated with the environment and ensuring a welcoming work culture.
Endorsed from every angle
Whilst excitement builds within the team set to work with these three, further encouragement comes from above via Steve Mercieca, co-founder and CEO of Quicklets and Zanzi Homes. With particular reference to Gerardi, he notes, "Flavio took the leap and joined real estate, like many other franchise owners did before him. These are the stories that have built our group and which drives us to keep growing."
Gerardi echoes this noting that the welcome received from the QLZH team was beyond comprehension, and touches on some of the things that made the transition so smooth. He notes how, "The continuous support and assistance, the detailed induction sessions and the way they prospect a long term business relationship made every effort and investment worth it."
Quicklets and Zanzi Homes stands out from the crowd in Malta's real estate market as leaders and innovators in the field, without compromising on both external service, and internal belief in the brand. To learn more about how to join the new Quicklets and Zanzi Homes team at the new Birkirkara branch, contact Flavio Gerardi on +356 7750 7011 or fill in the following form: https://bit.ly/joinqlzh.
Press Release published in Times of Malta. See here.