How to prepare your flat for rent in Malta for the summer.

So the supposed winter season in Malta is finally over - all two weeks of it! It's time to switch up your wardrobe, dig out your bucket and spade and get ready to build the sand castle of your dreams, because the sunny summer season is right around the corner. With the time change gracing us with an extra hour of sunlight a day, why not use that time wisely and invest in your property for rent here in Malta or Gozo.
Whilst welcoming in the new season, a fresh, clean slate will help you feel more prepared to take on the next few months and possibly the next new tenant for your rental property in Malta. A spring cleaning is always a good idea, whether your current tenant plans to move out soon or you wish to make their lives just that little cleaner and sparklier. This is a big job, but some planning and prep work can go a long way. And to make your life that much easier, we've prepared a full-on Spring cleaning checklist to make your long-term rental apartment stand out on the Quicklets site.
If you're new to the process of renting out your property in Malta or Gozo and need some guidance, first read about how to convert your apartment into a rental.
Time to head to the shops
The right cleaning products will save you time and energy in the long run. So grab your shopping lists and be ready for a long one. And if you've been thinking what to include in your rental apartment, it's also great to have a cleaning product inventory for your next or current tenant to have. This will give them further incentive to keep up the cleaning for their own sake.
The basics will include:
Window cleaner
Disinfectant
Cloths
Sponges
Scouring pads
If you're an ethically minded and environmentally conscious consumer, Soap and Soap is a local shop where you can buy your detergents and re-use your old bottles and containers.
Prepare to spend some time
Rome wasn't built in a day and no matter how small your long let apartment in Malta or Gozo,it probably won't be cleaned in a day either. Make it a fun one. Maybe even invite a friend, crack open your favorite bottle of vino, play some 80s show tunes and get scrubbing. We've even picked the perfect playlist just for you!
One at a time
Your usual cleaning routine may not be systematic, but this one should be. Break down your apartment for rent in Malta or Gozo into sections and tackle each one separately. This will make it feel less overwhelming and will help you focus on one thing at a time. Writing down a list of small goals will help you feel motivated along the way and gain that feeling of satisfaction after crossing off each 'to do'. Finish off each small task before moving on to the next, making it much more efficient.
Here's a perfect example of what your checklist for each room should look like.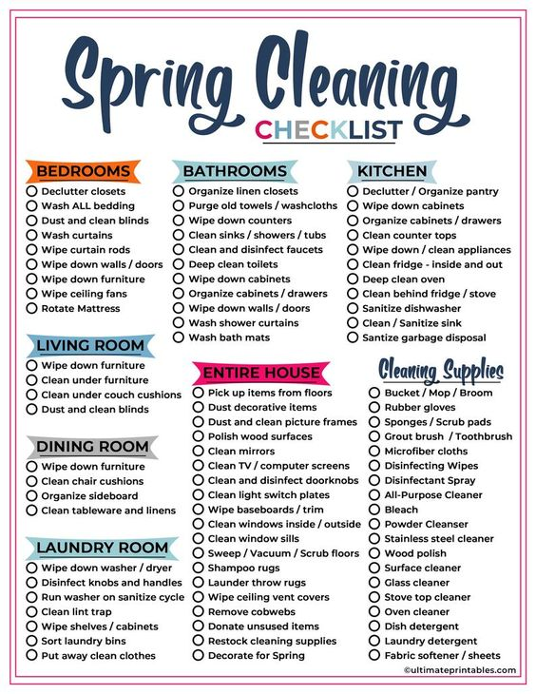 Image courtesy of https://www.pinterest.com/pin/618119117607600013/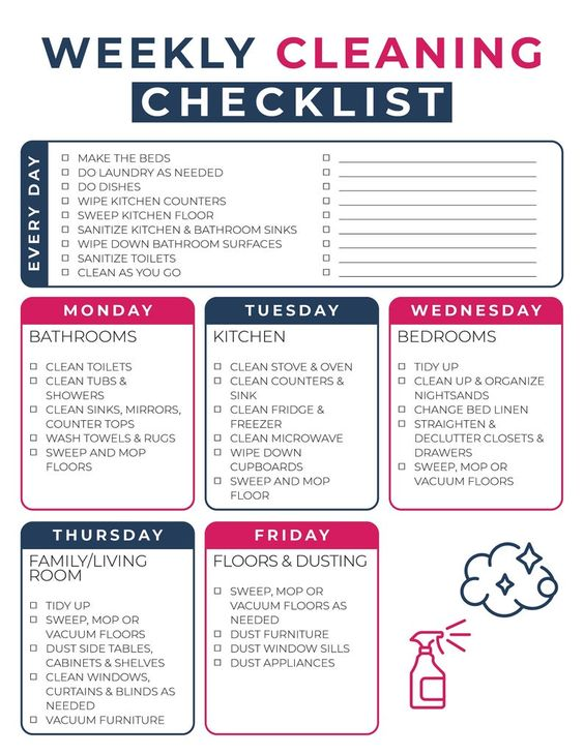 Image Courtesy of https://www.pinterest.com/pin/761812093218470754/
Leave your new tenants a weekly cleaning list to motivate them to keep up with the weekly household cleaning, which will in turn give you less work at the end of their contract.
As we welcome in a new season, why not welcome in a new resident, especially f your previous tenant has ended their contract. Contact one of our experienced Quicklets estate agents through the Quicklets website to help you out with finding you the perfect tenant for your flat for rent in Malta or Gozo.
Main blog photo courtsey of Inside Weather